Before we learn how to apply attars lets learn the definition of attar (perfume oil).
Concentrated perfume oil has many commercial names: Pure perfume, Musk, Oriental perfume, Attar, Elixir, Oil based perfume. In our house, we call them pure perfumes because they are free from alcohol and we don't dilute our ingredients with any jojoba oil or coconut oil nor anything else. We buy various ingredients made from traditional process like distillation and also precious ones such as absolutes. Because pure perfumes have the highest concentration, they will stay on your body or clothes for an extended time. Now it time to learn how to apply the attars (perfume oils).
How to Apply Attars?
Now we can talk about the traditional way of application. First of all, make sure your hands are clean. Applying our pure perfume oil is very easy: simply dab the applicator to the pulse points: places on the human body where arterial pulsations can be easily palpated. These spots emanate heat and your perfume will react with your body heat and continue to emit scent throughout the day.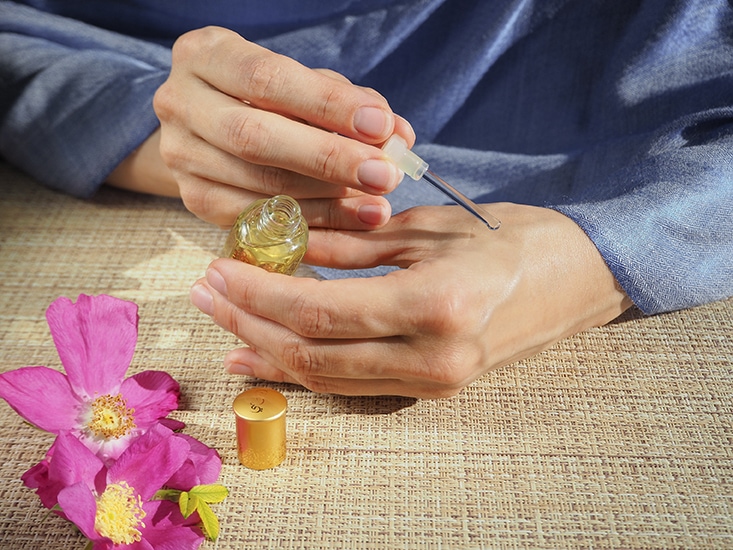 Where to Apply Attars?
Apply your perfume to these points such as the inner wrists, the base of the throat (the common carotid artery at the lower level of the thyroid cartilage), behind ear lobes, underarms, behind knees, and the inner elbows.
The perfume sillage (/sēˈäZH/) is improved by applying on wrists and behind ears to give a sense of movement in your fragrance. The diffusion is perfected by applying on inner elbows and behind knees.
You can also apply on your clothes but be cautious because you can easily stain your clothes, if you are not confident with this process, then leave it. Take a few drops using the traditional stick applicator into the palm of your hand and gently rub your hands together. Then you can apply the perfume by stroking the clothes with your hands and your beard if you wear one. But again, be careful with this process of applying oil on your clothes.
We invite you to a sensory journey through time and cultures. Indeed we propose high quality and unique scents. We bring with our fragrances something new and different while keeping authenticity and tradition and you will find them here.